What image comes to mind when you think of the natural stone slate?
You've almost certainly seen slate roof shingles on the outside of buildings, but did you know that slate stone also has a wide range of uses in interior design?
Read on to find out why you might consider the natural, robust & highly versatile natural material slate for your next renovation project.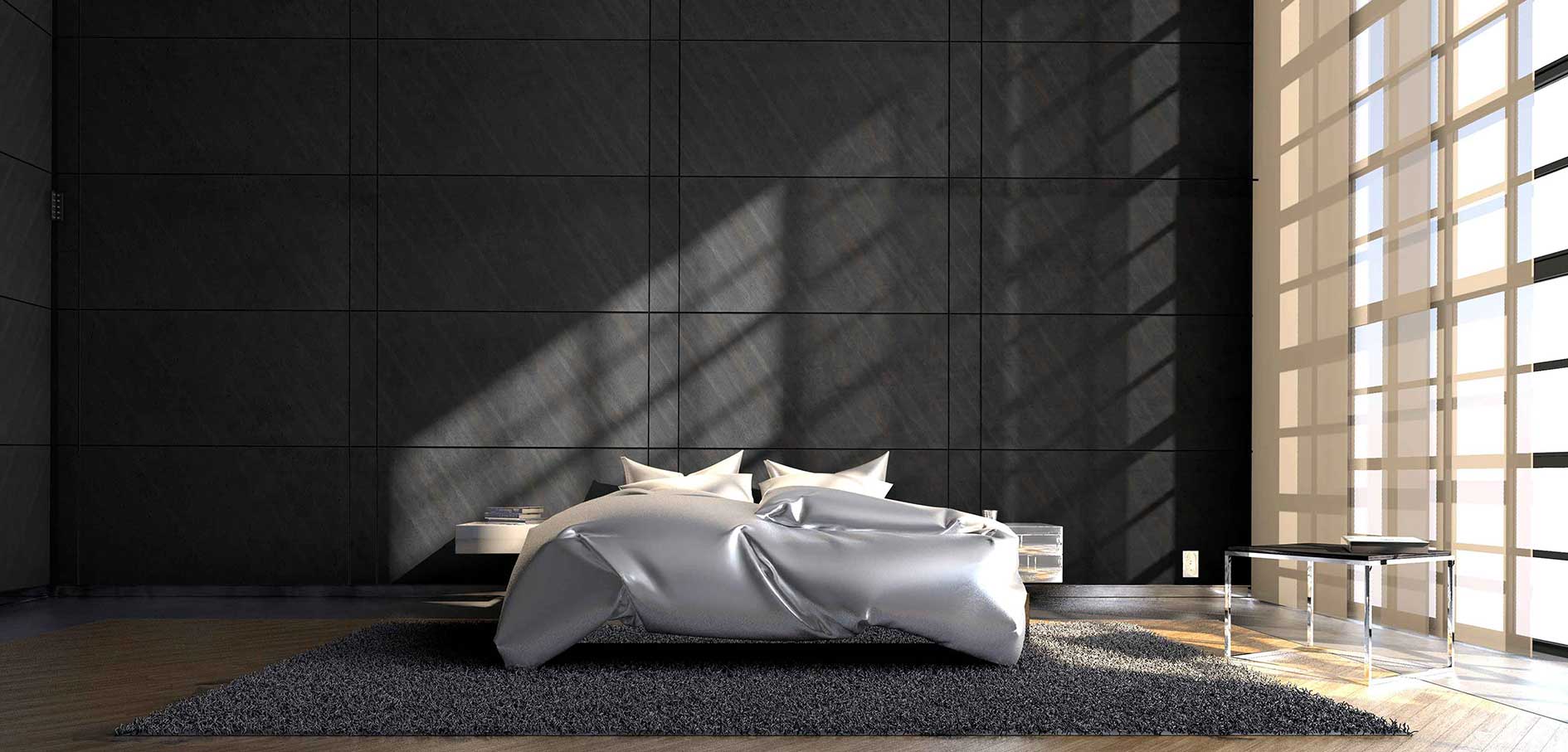 Architectural Slate
Here's an example of the type of slate you're used to seeing. The chalky gray stone is especially popular used as roofing in homes built in historical styles. Slate enjoyed a long history of use in the antique buildings of Britain & saw an uptick in popularity in America's New England with the Tudor Revival style of the 1920s.
Slate stone is mined from quarries worldwide worldwide, with notably large deposits in Spain, Wales & Brazil. In the United State it is most prolific in the "slate belt" of the Appalachian Mountains.
From Australia to Japan, Europe & the Americas, slate is found cladding the outside of buildings. But fresher takes on the material see designs departing from the historically antique to the exciting avant-garde & contemporary.
The Look of Slate
Some people go crazy for depth of slate's hue. I count myself among them. What I like about slate is that it tends to have a rougher appearance than marble or quartzite, so it doesn't automatically read as "glitzy', but when polished, it is moody, slick & refined.
Slate can be recognized in situ by its intense & uniformly grey color. In fact, the term "slate" is often used as an adjective for the color gray. But think again: In reality the stone can be found in more than sixty different tones, from copper-y orange to an almost purple hue.
Slate is a naturally occurring material, meaning that it is more ecologically friendly than synthetics due to less phases in its production cycle. However no material is perfect.
Slate is actually a type of metamorphic rock which is formed over great lengths of time from shale (essentially mud) which comes under pressure from tectonic plates colliding with one another. Cool, huh? Even cooler is that slate has been known to contain small animal & plant fossils.
Slate comes in a lot of different grades, each a result of varying pressures and heat in its formation.
Slate in Interior Design
The most common place to find slate outside of roofing is as flooring tiles across the home and especially in kitchens & bathrooms, where it may also be used for backsplashes or as wall covering.
One of the unique features of slate is that it can be broken into thin, customizable sheets, which is what made it excellent for roofing shingles and paving in the first place. But it has even been turned into some pretty unique furniture items, like the multi-purpose benches below by designer Natalie Weinmann.
Cost of Slate Stone
In general, natural stone runs at a higher cost than most synthetic materials. But if you consider that it is a highly durable material with an expected lifespan of more than a century, the investment over the long-term is well worth it.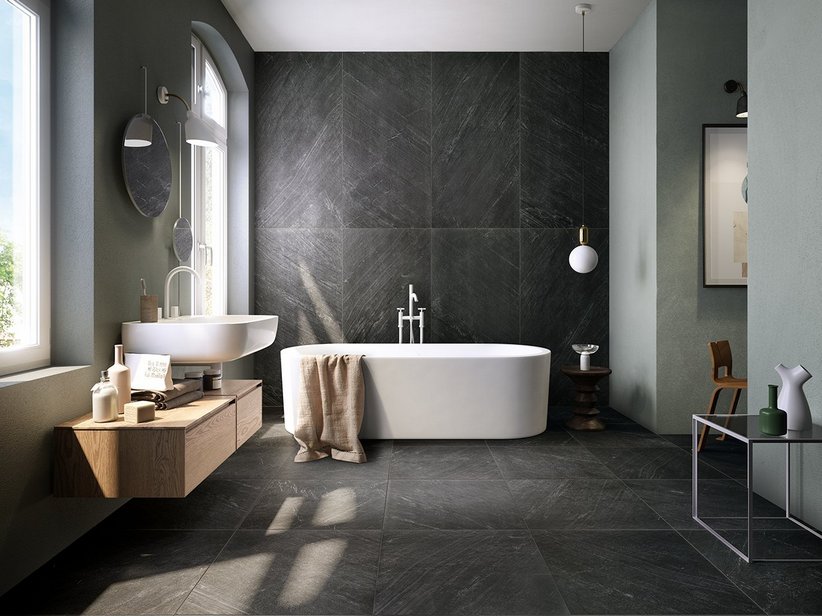 Installation of Slate Tiles & Cladding
Slate is quite easily fitted. Your contractor will apply the slate tiles over a plywood substrate to provide a rigid surface & to prevent cracking. Tiles are cut to fit with a coarse-tooth masonry saw and an acrylic bond is used for adhesion over wood, asphalt and concrete.
When cladding with slate (wall application), both the stone & the surface it is applied to must be dry and structurally sound. In this type of installation it is usually applied to porous plaster or plasterboard, and a P.V.A. bonding agent is used. For bathroom or kitchen installations (where contact with water is expected!) a water-resistant tile backing board is a necessity.
This helps to prevent the stone from shrinking or cracking once fitted.
Problems with faulty installation may show up immediately or show up further down the road, so it's always wise to consult a professional who is familiar with the material. Slate may prone to cracking & chipping when it is being worked with, but once installed it holds up very well to wear & tear.
Once slate is installed it does not require sealing, but some professionals recommend sealing it anyway for longevity. Interior design professionals may specify matte or honed finishes from the dealer, but keep in mind that a honed surface should never be used on floors, as it is slippery!
Maintenance of slate tile
Good news in the cleaning department: Water and mild detergent is suitable for everyday cleaning of slate surfaces. A PH balanced cleanser can be used if you need to call in the heavy duty option!
Longevity & the Safety Profile of Slate
Slate's best boast is that it is one of the most fire-resistant materials out there, so much so that it is very popular for fireplace surrounds and mantels. See below.
One other big selling point for slate is its insulating properties. The dark coloring of this stone allows it to absorb heat & release it again slowly, conserving energy.
When it comes to water you can be assured that quality slate is nonporous and water repellent. It's good to know that its water-absorption ability can range between low & medium, though, depending on the grade of the stone.
One small drawback with slate is that some varieties scratch easily, but this is not always noticeable with a rougher finish.
Slate makes up for its lack of scratch resistance with resistance of another sort: that of its powers against mildews and mold. Because of this, slate can be used in areas of humidity and damp that other types of stones could not be.
Slate is even known to resist mild acids and pollutants.
Example of a Fresh Slate Bathroom Design
I personally love slate for its texture & its intensity & that it can be played up in either warm or cool tones.

Here is an example of the versatility of slate in a beautiful bathroom renovation I found on Pinterest.
Bathrooms require special selection of materials because they are subject to moisture. The homeowners chose slate here, and its unique properties are put to good use.
The entire wall behind the ceramic twin sinks is decoratively tiled in both large and small tiles. The texture & pattern provide a lot of visual interest.
Because slate is impervious to mold, this bathroom will stay beautiful and easy to maintain.
Floor tiles in slate provide a hard-wearing flooring option with their naturally coarse, textured surface & this also prevents slipping.
The walls of the shower, also slate, allow for both beauty and practicality, since slate deals well with water.
The shower floor is ceramic tile, likely selected for variety but here slate would do just as well as a flooring option if so desired.
The wall to the rear of the room features a large window and is painted white, over concrete. This accent wall provides a break from the stone look and enhances the view.

The result is a practical, functional natural slate stone bathroom that successfully merges "feel" with function.
For more ideas on how to use slate in interiors, check out my Pinterest board below:
Do you like slate as an interior design material?
What fresh, new examples of natural stone have you seen lately?
Please share in the comments!